You can't beat a bit of up close and personal tuition to help hone your kitesurfing skills. If your riding has reached a plateau or you've been struggling with a certain move a good clinic session can really help to sort you out.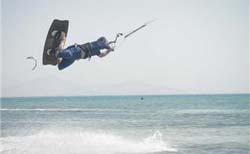 Instructor: Steve Murfet
The advanced coaching clinics for Kite Beasts 2008 were a great success with students pushing themselves to learn everything from basic jumping to more advanced moves such as F16's and Raileys.
These popular clinics will run again next year. Keep an eye on this website for more info.